Hydraulic Power Pack Driving Pile Hammer
Jinyi Sanchang offers high quality hydraulic power pack driving pile Hammer (vibratory hammer) that are applicable to different power units according to project requirements. Not only does this allow for an efficient piling completion, but also saves customer construction costs. In special piling project cases, the piling process is difficult to accomplish if the vibratory hammer is mounted on the excavator or rig, and thus, requires a special power unit. As an example, when carrying a piling out to sea, the vibratory hammer should be hoisted by a crane and connected to a hydraulic power pack in order to successfully complete a piling project.
In some cases where there are movement limitation problems posed by an excavator or rig, a vibratory hammer with a hydraulic power pack should be mounted on a crane, while the hydraulic power pack itself should be mounted on the ground for a power supply, and connects to the hammer via a hydraulic tube. This effectively solves limitation problems on an excavator or rig, as the crane offers more freedom of movement and fewer limitations on the pile type features.
Jinyi Sanchang employs our own R&D and professional manufacturing team, allowing us to design and produce ideal hydraulic power pack driving vibratory hammers according to customer pile type, construction technique, project requirements, and site condition. If you have specific requirements, please do not hesitate to reach out to us for more information.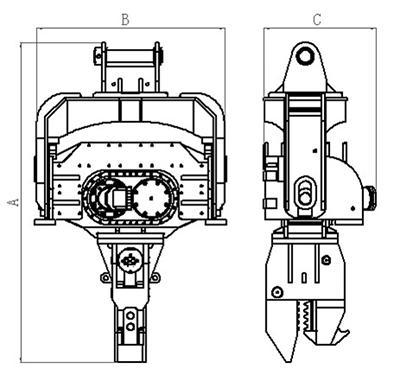 Custom Pile Driving Hammer
Our vibratory hammers are equipped with different custom grippers according to different customer requirements, including a bottom grip pile driver and side grip pile driver. We also offer customized hydraulic vibratory hammers according to pile types, including lassen sheet piles, concrete piles, steel sheet piles and more. For a highly efficient and practical vibratory hammer, and an applicable grip, please do not hesitate to contact us.